Products & Applications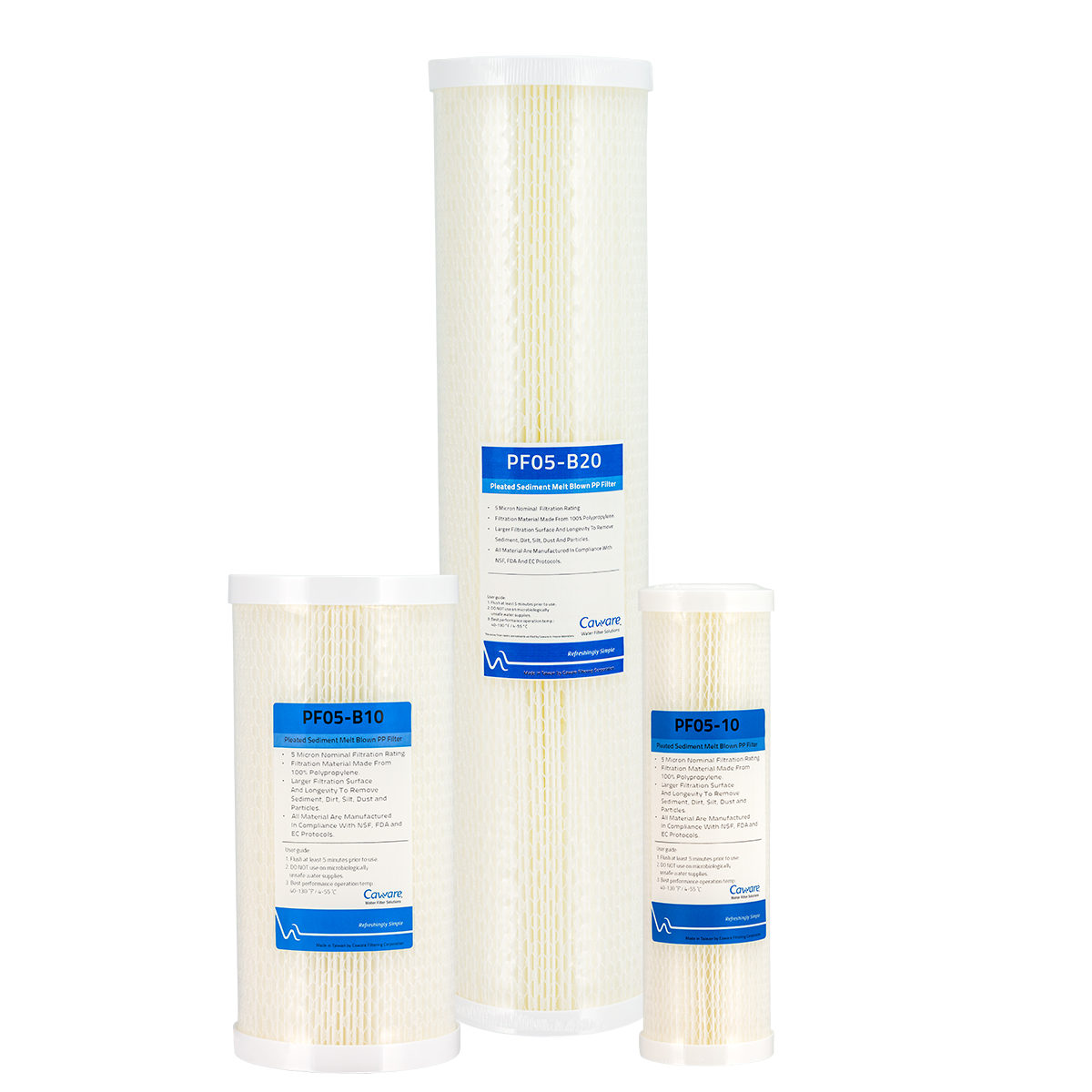 Caware Polypropylene Fibre Pleated
Made from 100% Virgin Polypropylene Pleated Fibre
Specially Designed Layers to Perform with High Efficiency & Long Life
Sediment, Dirt, Rust and Other Particulate Filtration
Low Pressure Drop & Larger Silt Holding Capacity Compared to PolySpun
Internal Polypropylene Core with High Pressure Resistance
Compliant to NSF/ANSI 42 & FDA CFR Title 21
Caware Pleated Filters are manufactured using Virgin 100% Polypropylene Fibre. Pleated filters are best utilised where there are higher levels of sediment or dirt in the water that would usually block polypropylene spun filters prematurely.
Caware's range of Polypropylene Pleated Filters are compatible with most liquids and are highly effective at reducing Sediment, Rust, Sand, Silt and Algae. Pleated cartridges have a much larger surface area for filtration, allowing the cartridge to have a heavier sediment load before compromising pressure or flow in a system. The increased surface area is also designed for higher flow rate systems. This allows the filter to perform exceptionally over its entire lifespan.
Purefer Polyspun Sediment Filters are available in 10" x 2.5", 10" x 4.5" & 20" x 4.5" with a rating of 5uM.
Below RRP is for Reference Only which includes GST but Excluding Freight - In Store Price May Differ.
| Part Number | Filter Size [Inch] (mm) | Pleat Count +/- | RRP |
| --- | --- | --- | --- |
| 2-5N | [10" x 2.5"](250 x 70) | 60 | $25.50 |
| 2-19N | [10" x 4.5"](250 x 115) | 90 | $62.00 |
| 2-24N | [20" x 4.5"](508 x 115) | 90 | $105.00 |