Products & Applications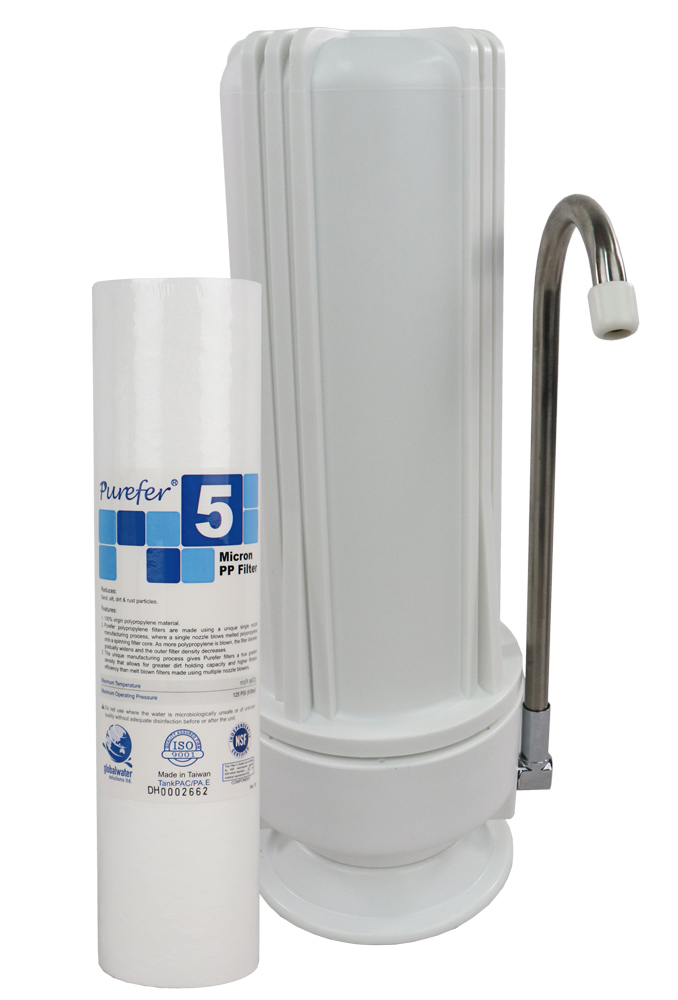 H1-100SED
WaterMark Certified Benchtop POU Filter System
Heavy Duty Twin O-Ring Housings
Inbuilt Faucet Tap for Drinking Water
Low Pressure Drop
Gradient Filtration Technology for higher dirt holding capacity
High Capacity 5uM Nominal Filtration
Installation Kit & Adaptors included
Designed for Un-Treated Water
Small 15cm Benchtop Footprint
HPF Benchtop Systems provide you and your family with clean, fresh great tasting water without the hassles of installation and expensive plumbing costs. This is non-invasive water filtration that is simple and effective to provide drinking water in your home. The benefits of the system being a POU system is that it is the last point of contact with the water so any contaminants caused by old plumbing or fixtures will be filtered out*.
The H1-100SED system is designed for filtration on more of a raw water type supply. This can include the sediment filtration of dam, creek or river water for in home use or utility use. It is also able to suit tank water application where the tanks may have heavy levels of sediment due to either the age of the tank or lack of protective gutter devices to pre-screen water into a tank. The use of the 5uM gradient polypropylene spun sediment filter means you are able to capture a greater amount of sediment within the cartridge.
100% virgin polypropylene material, the Purefer polypropylene filters are made using a unique single nozzle manufacturing process, where a single nozzle blows melted polypropylene onto a spinning 5uM filter core. As more polypropylene is blown, the filter diameter gradually widens and the outer density of the filter decreases. This unique manufacturing process gives Purefer filters a true gradient density that allows for a greater dirt holding capacity and higher filtration efficiency compared to standard melt blown filters made from multiple nozzle blowers, giving longer lasting better filtration. these offer the best solution for sediment filtration where no chemicals are known to be in the water or are not an issue.