Products & Applications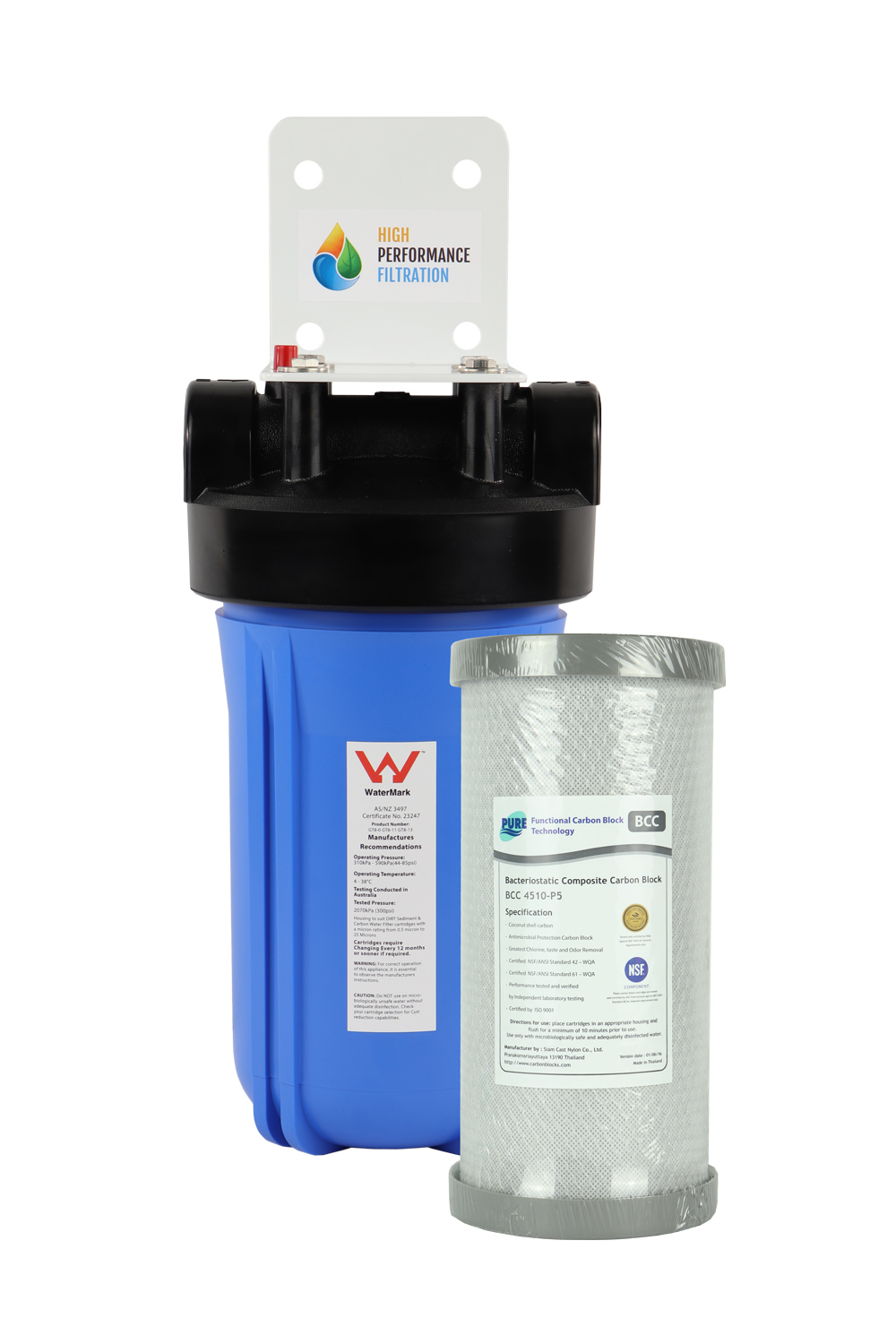 H1-6BCC
WaterMark Certified POE Whole House Filter System
High Flow 1" Ports
Compact 10" Big Blue Housing
Suitable for Granny Flats, Caretakers & Small 1 Bed Units
Bacteriostatic Silver Coconut Carbon – For Tank Water
0.5uM Giardia rated filtration
UV Resistant Big Blue Housings
Heavy Duty Powder Coated Steel Bracket (SS Available)
¼" Top Mount Pressure Gauge Ports + Bleed Valve
When filtering rain water or other un-treated water supplies, bacterial loading & contamination is a big issue that can affect the performance and lifespan of your filter cartridges. Silver Coconut Carbon, formally referred to as Bacteriostatic Coconut Carbon is the number one choice.
The silver impregnated carbon media helps prevent bacteria from colonising within your carbon filter cartridge which may prematurely block your filters. This will not only create potential foul tastes & smells, but also cost hundreds of dollars more to replace cartridges too frequently. Our Pure BCC cartridges are designed specifically for tank water filtration to provide a longer life and also incorporate anti-bacterial properties to fight bacteria. The H1-6 Series of Whole House Filters are designed with space saving in mind to be better suited for smaller Granny Flats or Caretakers Quarters up to small One-Bed apartments.
The H1-6BCC system comes standard with a 0.5uM Giardia rated BCC 4510-P5 cartridge for the removal of sediment, giardia & cysts, chemicals, VOC's, Taste & Odours.