Products & Applications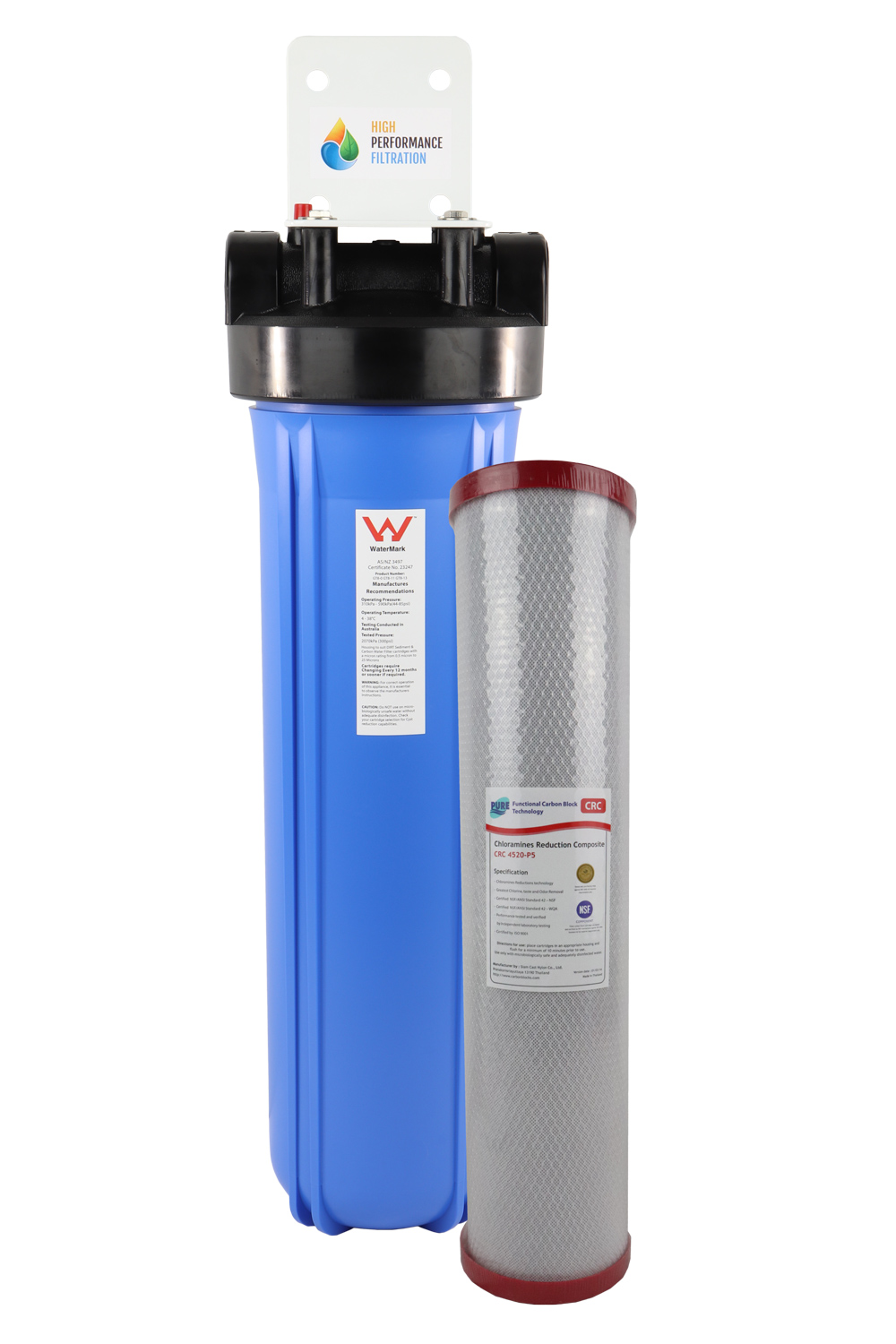 H1-8CRC
WaterMark Certified POE Whole House Filter System
High Flow 1" Ports
Standard Size 20" x 4.5" Big Blue
Suitable for Granny Flats, Caretakers & Small 1 Bed Units
Chloramine Removal Cartridge
0.5uM Giardia rated filtration
UV Resistant Big Blue Housings
Heavy Duty Powder Coated Steel Bracket (SS Available)
¼" Top Mount Pressure Gauge Ports + Bleed Valve
Chloramine is fast becoming the most important topic when it comes to municipal mains water. Free chlorine has long been the choice of water companies and councils until the use of Monochloramine has yielded significant improvements to expenditure for water sanitation. Unfortunately for the consumer, chloramine poses several health and aesthetic effects from skin & Respiratory issues to heavy metal leaching (from old pluming).
Aesthetically monochloramine gives a strong Chemical Smell in the water and when mixed with the fluoride additive in water can also increase the corrosiveness and has been known to dissolve copper and lead from plumbing. The H1-8CRC is a system designed for filtration on mains water for chloramine removal where the water usage is lower than average.
As this is a single cartridge system, the chloramine filter needs to do all the work (compared to the H1-9 Series that have a pre-filter). This is why the system is better suited to smaller homes that have lower water usage. The 0.5uM Catalytic Chloramine Removal Carbon (CRC 4520-P5) denatures and neutralises the Monochloramine molecule, breaking it down to simple elements such as water, hydrogen, nitrogen and a small amount of chlorine which is absorbed during the final contact with the carbon.