Products & Applications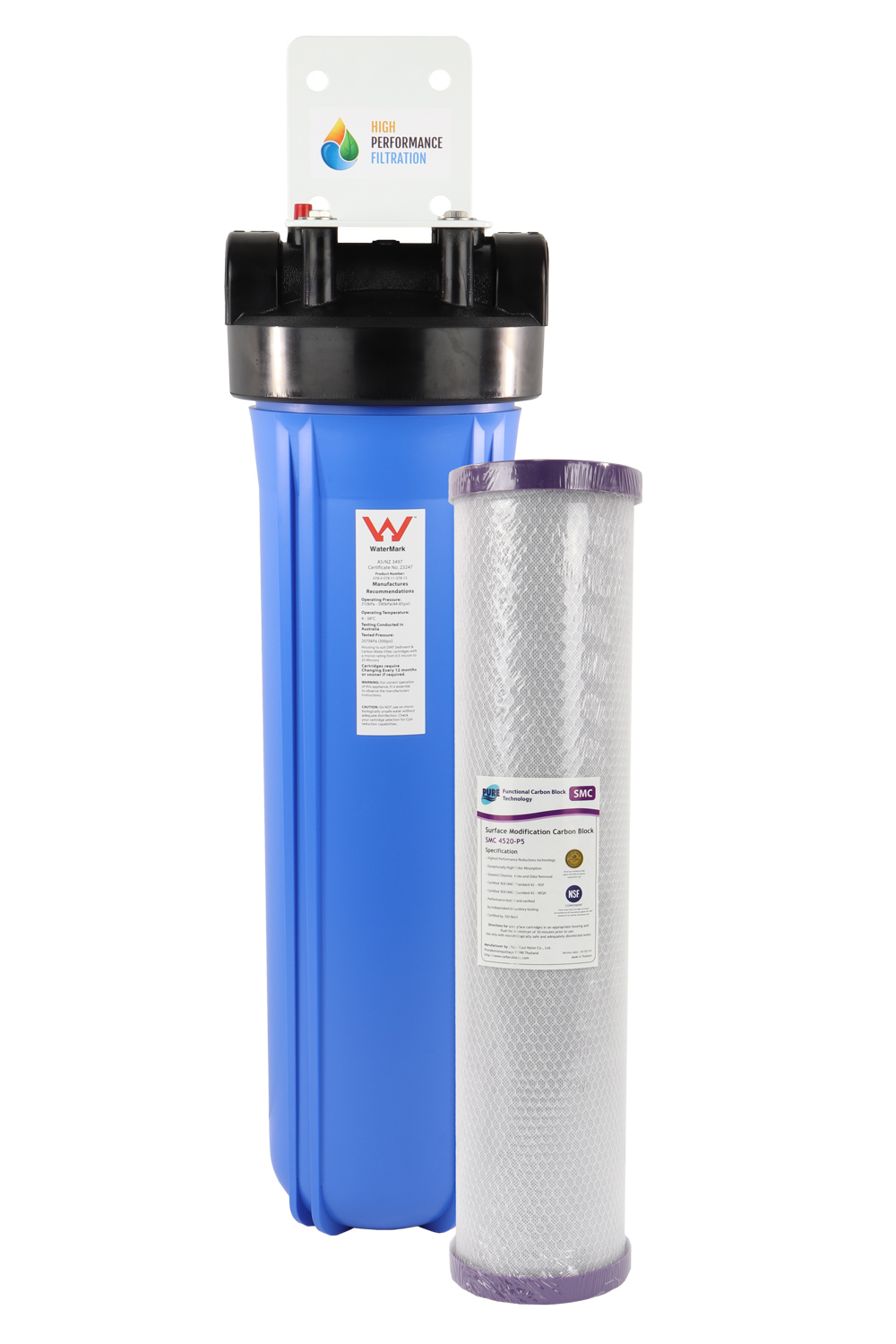 H1-8SMC
WaterMark Certified POE Whole House Filter System
High Flow 1" Ports
Standard Size 20" x 4.5" Big Blue Housing
Suitable for Granny Flats, Caretakers & Small 1 Bed Units
Removes Tannin & Colouration from Water*
Highest Absorbency of all Pure Coconut Carbon Blocks
UV Resistant Big Blue Housings
Heavy Duty Powder Coated Steel Bracket (SS Available)
¼" Top Mount Pressure Gauge Ports + Bleed Valve
Surface Modification Carbon is a new advancement in carbon block technology. This technology focuses on the absorption factor of coconut carbon to provide the highest rate of removal in a fraction of the contact time usually required by standard GAC filters.
The H1-8SMC features the prestigious SMC 4520-P5 Pure Catalytic Coconut Carbon cartridge which boasts the highest absorbance capacity on the market for a cartridge its size. Measured in Chlorine Removal Capacity it handles a whopping 565,000 L of water @ 3ppm Chlorine before falling below the benchmark 85% reduction limit. This filter is jam packed full of the special carbon with the highest density and weight of carbon.
*This is important to note as tannin removal in water is one of the more difficult things to achieve as there are copious amounts of different tannins, all of which react differently to carbon and require different types and blends (such as coal carbon) to effectively remove. The golden rule when it comes to tannin is contact time. This is why the H1-8SMC system is fitted with the highest performing carbon filter in the Pure range to maximise the contact time and ensure that the system has the best possible chance of eliminating tannin or significantly reducing it. Due to this, the system will require a minimum working pressure of 350 kPa to reduce pressure loss to the house.