Products & Applications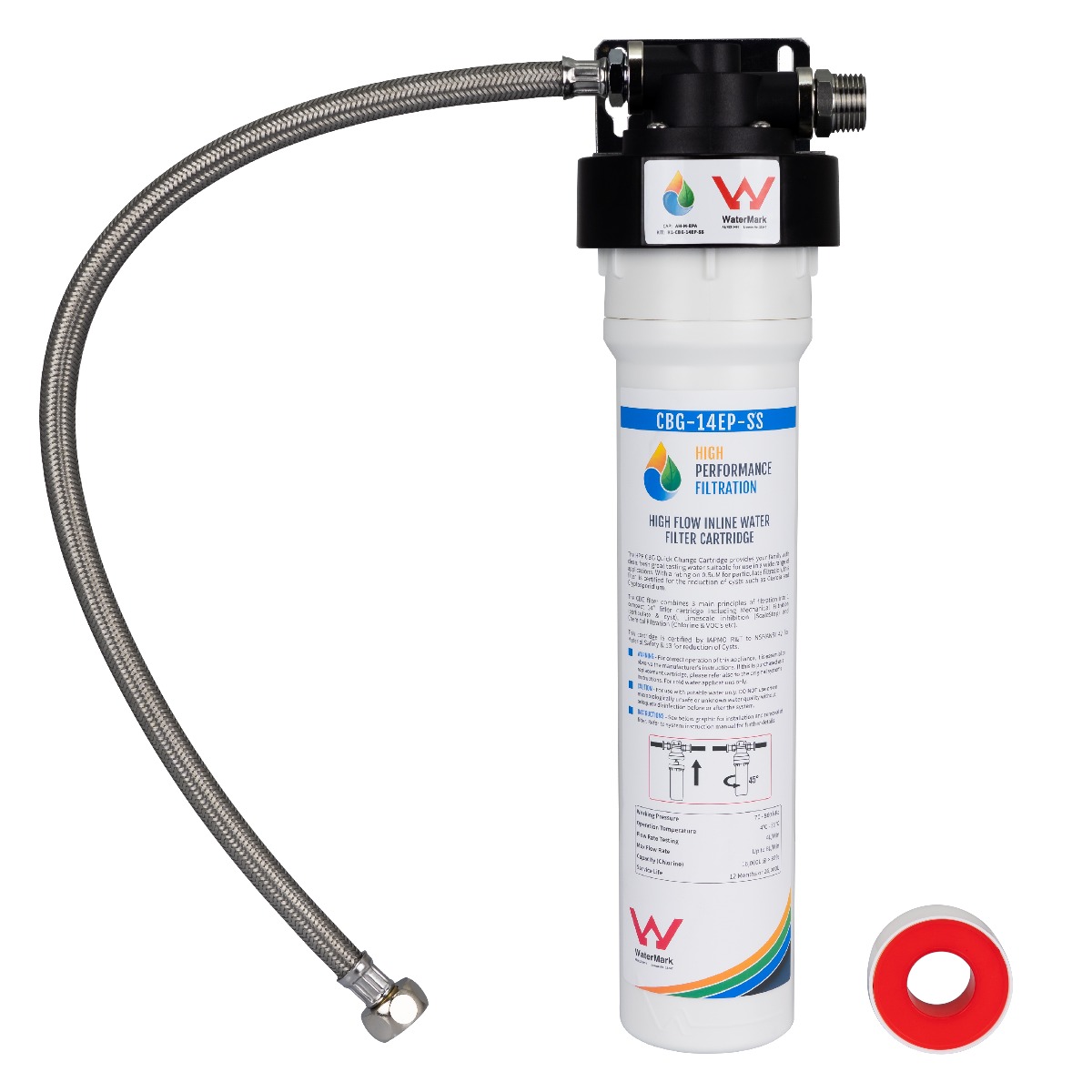 H1-CBG-14EP-SS
Ideal for Chlorinated Mains or Disinfected Tank Water
0.5 Micron Carbon Block for Chemicals, Chlorine, Taste & Odour Reduction
ScaleStop Technology for Reducing Limescale Build Up
Certified to NSF/ANSI 53 for Cyst Reduction (Waterborne Parasites such as Giardia & Cryptosporidium)
Certified to NSF/ANSI 53 for Material Safety (Food Grade & Non-Toxic)
High Flow Design for Installing on the Cold Water Line of your existing Kitchen Tap
No Drilling Required
The HPF CBG Quick Change Cartridge offers an excellent solution for ensuring that your family has access to clean, fresh, and great-tasting water. Designed for versatility, it is suitable for a broad range of applications. With its 0.5-micron rating for particulate filtration, this cartridge is specifically certified to reduce harmful cysts, such as Giardia and Cryptosporidium.
What sets the CBG cartridge apart is its multi-faceted approach to water purification. It integrates three core principles of filtration into a single, compact 14-inch filter cartridge. First, it offers Mechanical Filtration, which effectively removes particulates and cysts from the water. Second, it features Limescale Inhibition, commonly known as ScaleStop, to prevent the buildup of scale in your pipes. Lastly, it provides Chemical Filtration, which eliminates unwanted elements like chlorine and volatile organic compounds (VOCs).
For your peace of mind, this cartridge comes with reputable certifications. It is certified by IAPMO R&T to meet NSF/ANSI 42 standards for Material Safety and NSF/ANSI 53 standards for the Reduction of Cysts.
The filtration system itself boasts a high-flow design, allowing for easy and seamless connection to the cold-water line of your existing kitchen faucet. This makes it an ideal choice not just for homeowners but also for renters. There's no need to drill into your countertop; installation is as simple as connecting the filter to the existing braided line beneath your sink. And just like that, you're all set to enjoy clean and healthy water!
Product Specifications:
Working Pressure: 70-860 kPa
Operation Temperature: 4°C - 55°C
Flow Rate Testing: 4L/Min
Max Flow Rate: Up to 8L/Min
Capacity (Chlorine): 16,000L @ 80%
Service Life: 12 Months or 26,000L
Kit Includes:
1x GT1-19 Head Cap with Stainless Steel Mounting Bracket
1x CBG-14EP-SS 3-in-1 High Flow Inline Water Filter Cartridge
1x GT18-4 Check Valve (Backflow Prevention)
1x Plastic Mounting Clamp with Screws
1x 550mm Stainless Steel Braided Flexi Hose with 1/2" BSP Female & 3/8" BSP Male Inlet/Outlets
1x Stainless Steel HEX Nut with 1/2" BSP Female & 3/8" BSP Male Inlet/Outlets
1x Roll Thread Tape
1x Set of Instructions