Products & Applications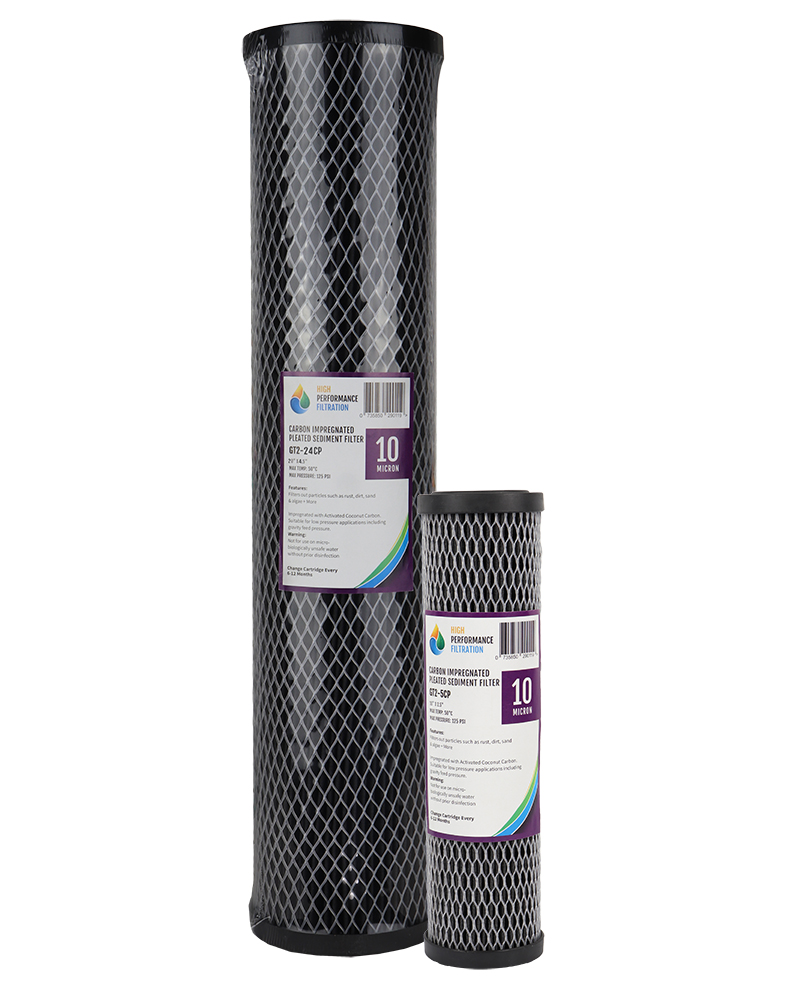 HPF Dual Purpose Carbon Pleated
Made from 100% Virgin Polypropylene Pleated Fibre
Specially Designed Layers to Perform with High Efficiency & Long Life
Sediment, Dirt, Rust and Other Particulate Filtration – 10uM
Low Pressure Drop & Larger Silt Holding Capacity Compared to PolySpun
Internal Polypropylene Core with High Pressure Resistance
High Flow – Up to 110L/Min
Carbon Impregnated Fibres for Reduction of Chlorine Taste & Odour
Reduces VOC's & Other Organics from Tank Water
Available in; 10" x 2.5" | 10" x 4.5" | 20" x 4.5"
High Performance Filtration's Dual Purpose cartridges are manufactured using 100% Virgin Polypropylene Pleated Fibre. During the manufacturing process, the fibres are impregnated with high grade 100% Coconut Carbon (PAC). This unique cartridge offers sediment filtration, along with taste & odour reduction, all in one cartridge.
HPF's Dual Purpose cartridges are perfectly designed for applications on tank water or bore water and due to the nature of the cartridge is also suitable for low pressure mains water for the removal of Chlorine.
Pleated cartridges offer a larger surface area for filtration, increasing the dirt holding capacity, while at the same time, increasing the contact time with the water to maximise the effectiveness of the coconut carbon.
HPF Dual Purpose Filters are available in 10" x 2.5", 10" x 4.5" & 20" x 4.5" with a micron rating of 10uM
Below RRP is for Reference Only including GST - In Store Price May Differ.
| Part Number | Filter Size [Inch] (mm) | Pleat Count +/- | RRP |
| --- | --- | --- | --- |
| 2-5CP | [10" x 2.5"](254 x 65) | 56 | $38.00 |
| 2-19CP | [10" x 4.5"](250 x 113) | 62 | $73.00 |
| 2-24CP | [20" x 4.5"](508 x 113) | 62 | $125.00 |