Products & Applications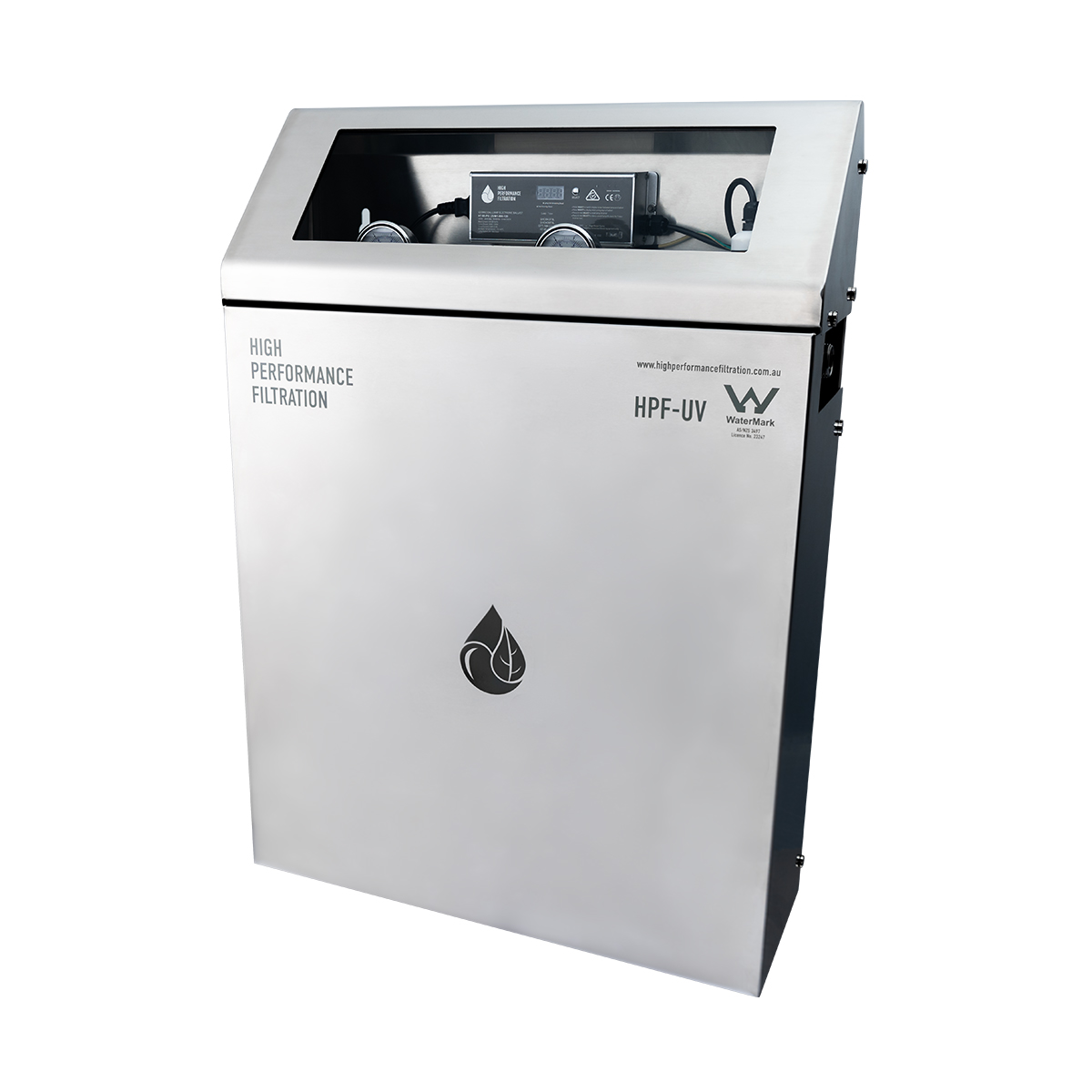 hpf-uv
Treats Raw, Rain, Tank & Bore* Water for Households of 3+ People
Durable Tamper-Resistant & Weather Resistant 304 Brushed Stainless-Steel Enclosure to Protect Your System
Corrosion Resistant Electropolished 304 Stainless Steel Ultraviolet Sanitation Chamber
Ultra-Stong Tempered Glass Panel to Easily View & Safeguard Electrical Components and Pressure Gauges
Customisable Twin Pre-Filter Options: Choose from Our Range of Sediment and Carbon Filters Compliant to National Sanitation Foundation/ANSI Standard No. 42 in 20" x 4.5" Size
Fine Filtration + Fast Acting Sanitisation Kills 99.9% of Parasites, Bacteria & Viruses at High Volume Flow Rates
Watermark Certified to Australian Plumbing Standards AS 3497
Quick and Straightforward Installation
Our NEW High Performance Weather Resistant Twin Filter + Ultraviolet Whole House Water Sanitation System has been specifically designed to withstand the harsh conditions of the Australian environment, protecting your whole house filter investment from UV Exposure, Heat Damage, Corrosion, and Rust, and providing safe, clean, and sweet-tasting water for customers on rain/tank water. Just as you would protect any other system with electrical components from the weather, this unit is a must for those who can't afford to lose access to sanitised water, in addition to maintaining a neat-looking home exterior. This set-up features twin housings with your choice of filters (Filters Sold Separately, see Options Below - we generally recommend the 5 Micron Pleated Sediment + 5 Micron Silver Impregnated Coconut Carbon to improve clarity, tastes, odours and filter life), whilst the chemical-free High Flow Ultraviolet Sanitation System kills 99.9% of bacteria, parasites, and viruses for safe consumption from all outlets including the kitchen, bathroom, and shower. Please Note: Even though the UV System that comes with this kit is capable of filtration at 75-105 Litres Per Minute, the flow rate capacity of the entire filtration system is limited to a max flow of 60 Litres Per Minute due to the 20" x 4.5" sized filter housing.
Pre-fitted and easy to install thus saving time and installation costs, this solid unit is built to endure from the inside-out, featuring a sleek and industrially-designed 304 Brushed Stainless Steel Enclosure. 304 Stainless Steel is renowned for its strength and resistance to corrosion and oxidization thanks to the tough composition of steel, nickel, and chromium alloy. Chromium, in particular, is what makes this 304 Stainless Steel housing truly stainless, as it prevents the formation of rust with an ultra-thin and strong layer of chromium molecules that protect the underlying steel structure.
This system is both tough and practical, with a tempered glass access panel that enables quick maintenance and easy viewing of the pressure gauges and countdown timer for the UV lamp, whilst simultaneously protecting the sensitive electrical components of your UV system from rain and tampering (accidental or otherwise). Unlike most basic UV Power Supplies, the High Performance System features a countdown timer to remind you when the lamp is due for replacement, along with a fail-safe alarm to notify you if the lamp blows (e.g. during a storm surge).
The Corrosion Resistant 304 Stainless Steel Disinfection Chamber is large enough to process a considerable volume of water, whilst the High Output Ultraviolet Lamp applies the maximum dosage of UV radiation (40mJ/cm² @ 75L/Min & 30mJ/cm² @ 105L/Min) to kill 99.9% of pathogenic micro-organisms such as bacteria (e.g. E.Coli, Salmonella, Legionella, Campylobacter), viruses, and parasites in tank, rain & bore* water for safe, clean and great-tasting consumption in a household of 3 or more people. (*For bore treatment, refer to the bottom of this listing to read *FILTERING BORE WATER - IMPORTANT INFORMATION BEFORE YOU ORDER*).
The twin cartridge design, based on our Full Sized 20" x 4.5" Reinforced UV Resistant "Big Blue" housings, gives you peak water flow and contact time for maximum impurity reduction, with the freedom to customize your selection of premium-grade Sediment and 100% Coconut Carbon Block filters (see below), which are certified to the National Sanitation Foundation Standard No. 42. Our recommended combinations of a sediment and carbon filter enables the capacity for microfiltration from 20 Micron down to 0.5 of a Micron to block dirt, sand, dirt, silt, plant spores, pollen, and common gastro-inducing water-borne parasites such as Giardia, Cryptosporidium, Entamoeba and Toxoplasma Cysts.
Items Included In the HPF-UV Kit
HPF Durable Tamper-Resistant & Weather Resistant 304 Brushed Stainless-Steel Frame, Enclosure, and Tempered Glass Hood
Big Blue Twin Filter Housings (Pre-Installed on Frame)

2x Big Blue Filter Housings in 20"x4.5" Size (Note: Filters Sold Separately, See Filter Options Below)
2x Pressure Gauges

H7-90-AT High Output UV System

1x Corrosion Resistant Electropolished 304 Stainless Steel Ultraviolet Sanitation Chamber (Pre-Installed)
1x H7-90-Lamp - 48W High Output UV Lamp, 4 Pin 436mm length
1x H7-90-Thimble - Quartz Thimble 470mm length
2x GT7-2NSF-OR - O-Rings 23mm outer diameter
1x H7-90-PS - Certified Ballast 42-105W Australian Plug + Earthing Cable
Rain Tank water will always require filtration as it isn't treated like municipal water supplies. In our experience, the most cost-effective and total solution is to use UV Sterilisation, which will ensure 99.9% eradication of all Bacteria, Parasites, and Viruses from your house water supply.
For further product details and technical specifications, please contact one of our stockists.