Products & Applications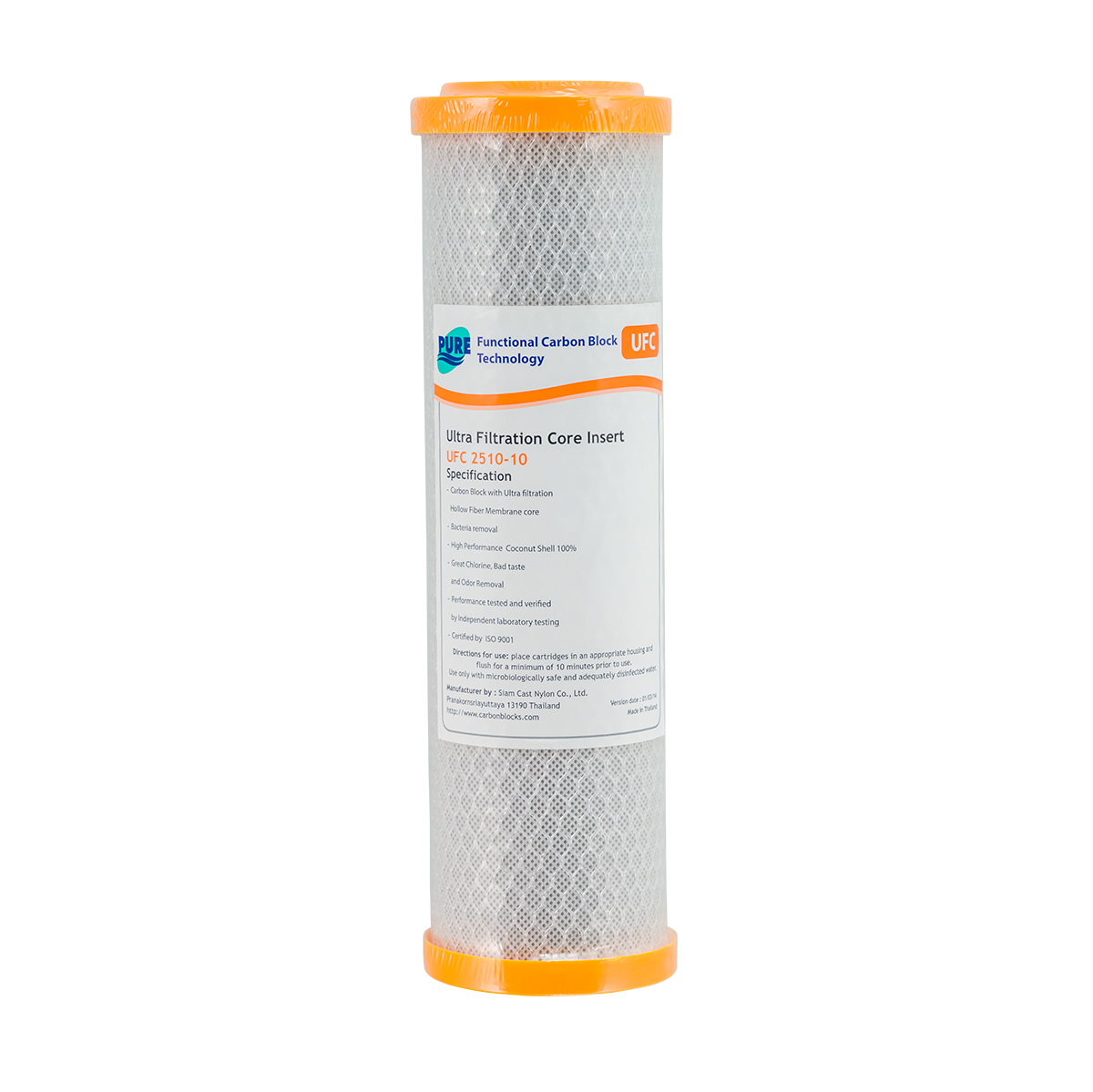 Pure UFC Dual Action UF Carbon Block
Made from 100% Coconut Carbon
High Iodine 1200 for Increased Chemical Reduction
Effectively Reduces Chlorine, Sediment, Tastes & Odours
Ultra-Fine Hollow Fibre Core – Filters to 0.01uM
Outside in HF Membrane for Extended Filter Life
Effectively Reduces Bacteria, Cysts and other Parasites
Available in 10" x 2.5" only, for Undersink & Benchtop Filters
Over 95% Reduction of VOC's as tested by WQA
Pure Coconut Carbon Block Filters are made from a combination of high-performance coconut shell carbon, unique binders and industry leading manufacturing processes to deliver trade quality carbon block filters. They deliver exceptionally low pressure drop while maintaining a high dirt holding capacity with excellent contaminant reduction capabilities.
Pure Carbon Blocks are registered in compliance with NSF/ANSI 42, 53 and 61 for several things, including VOC's, THM's, Lead & Heavy Metal Reduction, Chloramine Reduction & Chlorine Taste & Odour reduction. This also includes meeting standards of purity & safety of the materials used.
The UFC cartridge is capable of filtering both mains water and non-mains water due to the unique combination of Carbon & Hollow Fibre filtration. The 10uM Exterior Carbon Block will remove sediment to 10uM and also remove chemicals and other organics from the water, while the hollow fibre screens the water to 0.01uM removing colloids, cysts and even bacteria.
Pure UFC Filters are available in 10" x 2.5 at a 0.01uM Rating
Below RRP is for Reference Only - In Store Price May Differ.
| Part Number | Filter Size | Dimensions (mm) | Chlorine Reduction Capacity | Differential Pressure | RRP |
| --- | --- | --- | --- | --- | --- |
| UFC 2510-10 | 10" x 2.5" | L 250 OD 72 ID 26 | 56,700L @ 3.8L/Min | 4.0 psid @ 3.8L/Min | $75.00 |