Products & Applications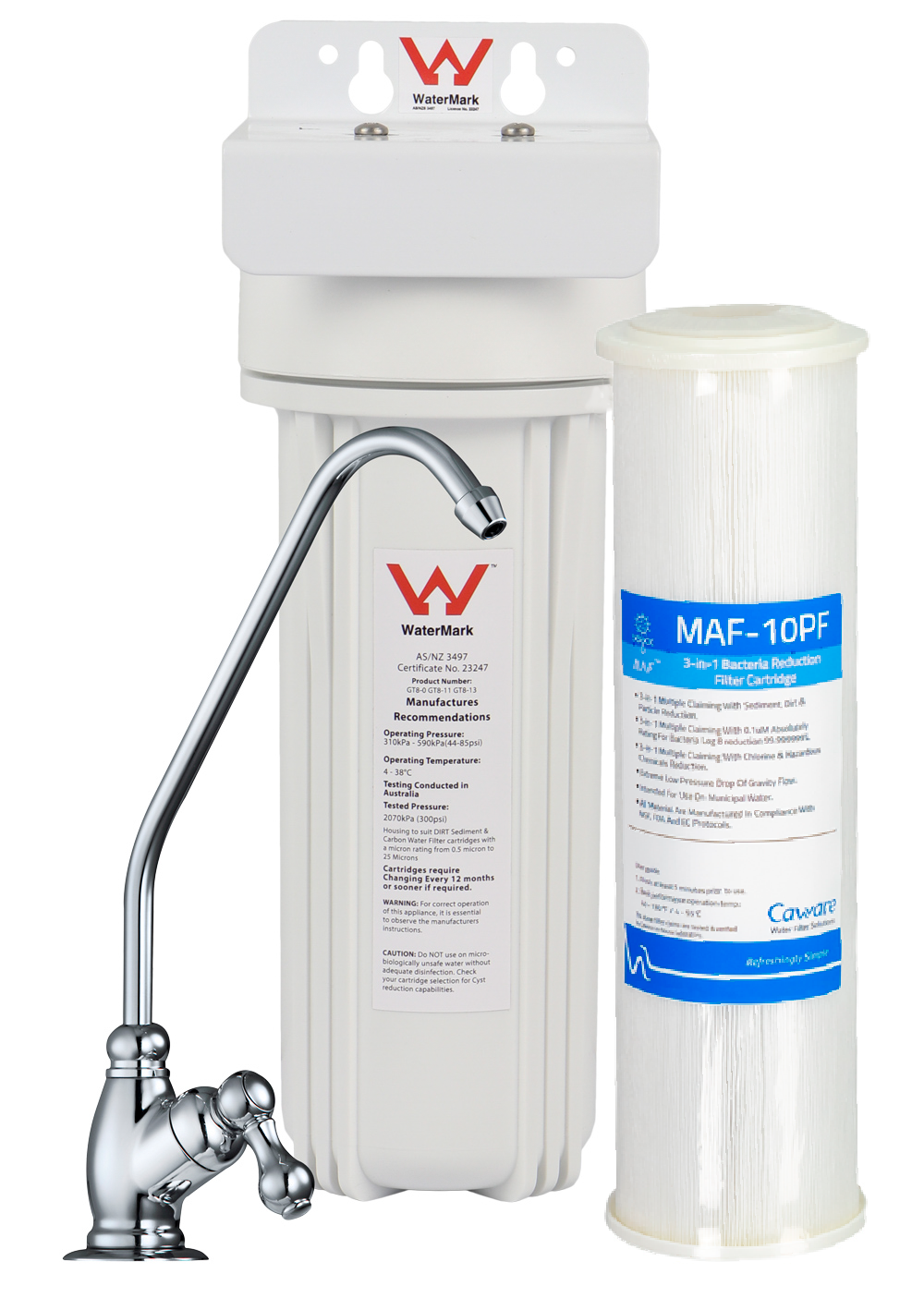 H1-15MAF
WaterMark Certified Single Undersink Filter System
Ideal Undersink Solution for Tank/Rain/Potable Bore Water*
Recommended for Caravans, Camper Vans and Motorhomes
Filtration to 0.1 Micron Helps Protect Against Paracytic Cysts and Reduce Bacteria
Compact Design Perfect for Small Undersink Spaces
The GT1-15MAF system is engineered to purify water from various raw sources such as dam, creek, or river water, making it ideal for both home and utility use. It is especially effective for tank water systems that may have a high sediment content due to the age of the tank or the absence of protective gutter screens. The system uses a Caware 0.1 Micron 3-in-1 filter that not only captures a large amount of sediment but also chemically reduces impurities and eliminates bacteria.
This system comes with housing that meets the Australian Standard AS3497 and includes a chrome bat handle faucet and a Watermark-approved pressure limiting valve. All necessary fittings and components for installation are provided, along with a comprehensive instruction manual. The unit measures 355mm in height, 120mm in width, and 120mm in depth, with 1/4" NPT female ports. When using standard cartridges, it handles a flow of approximately 10 liters per minute and is tested to operate optimally at 70 psi/482 kPa, though it can withstand pressures up to 150 psi/1034 kPa.
About the Caware 0.1 Micron 3-in-1 Filter:
Sediment and turbidity are reduced through a 5-10 micron pleated membrane.
Chemical impurities are diminished using a 5-micron premium coconut carbon block.
Bacteria are eliminated by a 0.1-micron hollow fiber membrane.
The filter is capable of operating at low pressures with a flow rate of 4 liters per minute.
It has been independently lab-tested for a Log8 reduction of E.Coli and P.Aeruginosa bacteria and complies with NSF/ANSI Standard No. 42 & 53, FDA, and EU Food-Grade requirements.
The filter's lifespan extends up to 6,000 liters at 80% chlorine reduction and 12,000 liters at 50% chlorine reduction.
This advanced filtration system is perfect for situations where the water may have a high sediment content and where chemicals are either absent or not a concern. The end result is clean, fresh water that is free from sediment, harmful chemicals, and bacteria. Experience the purity and taste of water as it was meant to be enjoyed!